Titan Post Anchor Sizes with Trex Post Sleeves
by Confused DIYer
I am an ambitious Do-It-Yourselfer and plan to install railing on a Trex deck already built.

I looked a long time for the proper anchors and didn't like the galvanized steel anchors until I found the Titan post anchor which is exactly what I need to bolt to the deck floor surface.

I plan to use Trek composite railing and the 4x4 post has a sleeve that goes over it. What size Titan post anchor do I need?

Is it a 6x6 anchor because of the sleeve and post skirt? Will the Trek skirt fit over the Titan anchor?

My second question is: How do I size shorter railing between posts to keep them in harmony?


---
Editor's Comments
Not all post base skirts (or collars as they are also referred to) will fit over the Titan Post Anchor. For example the 4"x4" Trex and Fiberon composite post sleeves having matching post skirts. However, they do not fit over the post anchor because they do not have an inside cavity of sufficient size.
However, the Titan Post Skirts which have 3.5" openings and are designed to fit around a typical 4x4 wood post have a flat shoulder along the inside edge of the skirt. This allows the Trex or Fiberon post sleeve to sit flush on top of the skirt for a nice clean appearance as this picture shows.
More Post Sizes and Post Skirts
Over the past five years there have been many new composite post sleeves brought to the market by various manufacturers and each post can vary in size from 4" to as much as 5" square.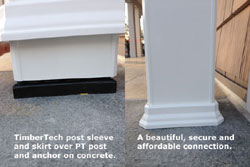 This picture here shows how the Timbertech Radiance 5" post and sleeve fit over the Titan Post Anchor perfectly.
However, there are some post skirts that do not fit. Titan has said to Keep an eye out for a range of new post skirts with opening sizes ranging from 4" to 4-3/4" to fit all of these other sizes. Coming later this fall of 2015.