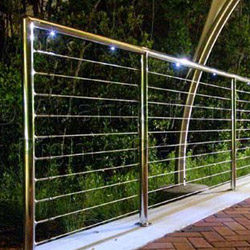 Not every home is suited for a contemporary stainless steel post and rail frame with cables.
But every railing can benefit immensely from the look you create when installing lighting underneath the top rail.
Wood decks are perfect candidates for this kind of light solution also like the photos below will show you.
This technique will emphasize the perimeter of your deck. And it will do so in a way that the illumination is soft and subtle. Almost like a gentle glow if done right.
So you can see there is more to deck lighting than just pathways and stairs.
Steel or Wood Rail Lights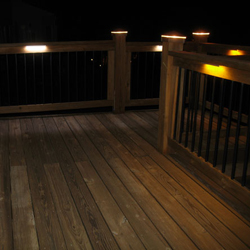 Install a small light fixture under the 2x4 cap rail.
A couple of years ago, I interviewed Steve Hodes Jr. from Moonlight Decks about his decorative post caps and lighting systems.
He has since come out with an under top rail light system that looks good.
As you can see here, the effect is very nice, creating a warm glow at night. It's combined nicely with the Moonlight Decks post caps.
Metal top rails can be designed with cavities for wiring.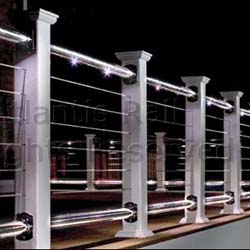 This is an Atlantis Rail system with wood posts but metal rails and cables. The under rail lights are the perfect touch, as you can see.
Part of the reason why lights set underneath a top rail works so well at illuminating a deck is their elevation.
At 36" or 42" above the deck surface, they are in the perfect position to cast soft light and project shadows from just the right perspective.
You do not get the same effect when the light source is closer to the surface, such as stairs or pathway applications.
This combination of light and shadows projected downward are unique.
Railings Can Provide Security And Evening Ambience
Deck lights are a simple addition to any deck.
Low voltage systems that do not require professional hard wiring are particularly quick and easy to install.
Be sure to read the other articles on the topic of lights for outdoor spaces.
This is just one way to light up your backyard space.