A Two Level Hot Tub Deck Design
A deck with two levels for privacy and a living area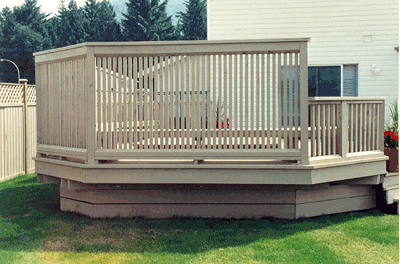 This two level hot tub deck design really does it nice.
An upper level with sunken hot tub and built in benches surround it.
Intimacy. Relaxation. Revitalization.
Below is a larger deck with cascading stairs for an open access concept.
Lots of room for a table, chairs and umbrella.
Simple concept. Pretty easy to build.

 And if you read more, I will show you how we did it so you can too!

Check out the top down view of this backyard building site.
Northern exposure so sunshine only really in the early morning and late afternoon hours.
A larger deck projecting further out from the house would allow the homeowner to capture a bit more day light sun.
Next door neighbors right beside where the hot tub was going. So the solution was a tightly spaced 2x2 baluster privacy wall.
Add some built in surround seating and you have a backyard spa!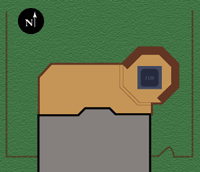 Preparing The Site For Wood Frame And Cement Slab For The Tub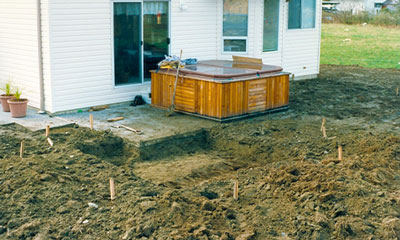 Before finalizing the layout we suggested the hot tub be installed at grade on compacted gravel and concrete slab with piers and footings.
Notice where the original patio slab is and ends and where the excavation for the tub slab is.
A slight overlapping of the tub on old and new concrete. But we put in a good 12" of stone gravel base.
Consider pouring piers below the main concrete slab

The soil here is soft and so to be extra cautious we poured piers deep into the ground and made them integrated with the main slab above.
The effect is to distribute weight a bit more. Steel re-bar is also important and certainly more piers could have been poured.
You should check with a soils engineer or someone at your building department to get an idea of local soil types and bearing capacity.
Then use our footings calculator tool.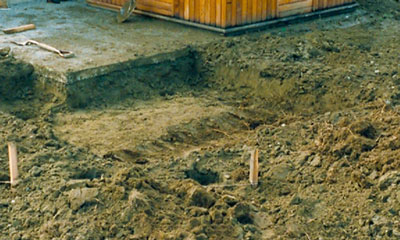 The Construction Phase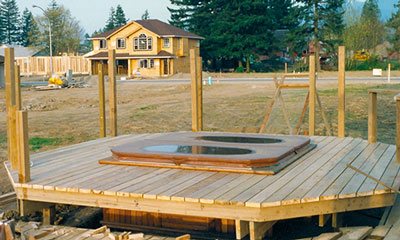 It's just a skeleton or a shell of its future self at this early stage.
But you can see where this deck is going.
The privacy fence around the upper tub deck was absolutely essential given the proximity to the neighbors and steady summer westerly wind.
For those of you who have trouble imagining finished work in your mind check out the picture below.
Your private backyard spa!

The upper level of this deck is now complete.
Built in bench seating set around the perimeter agains the privacy fence panel acts as a back.
This little space is now totally inviting day or night.
And that is what any deck should do. No matter what the purpose is maximize it for its purpose.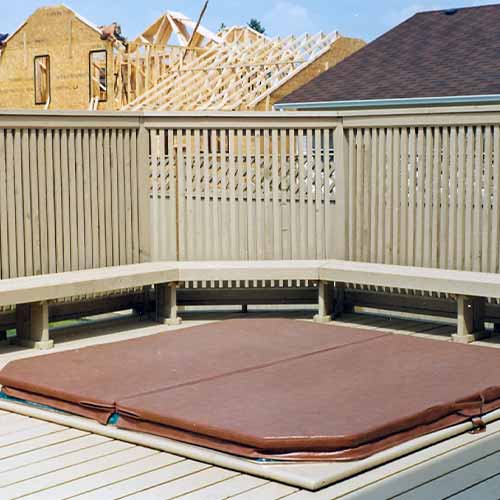 Just Add Sunshine, Plants, Furniture and... You!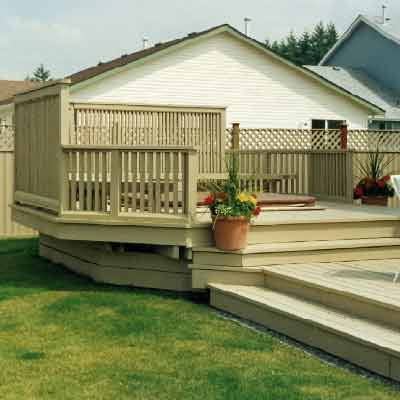 Voila! A hot tub spa retreat in their backyard!
The homeowners loved the final result.
It felt like two distinct areas and with the benches and privacy screen, the hot tub deck had a real intimate feel to it, summer or winter.
They also got an area big enough for soaking up sun despite the northern exposure.
The take away from this two level hot tub deck design
A combination of unique needs led to some design decisions that maximized this backyard space.
A low water table meant the hot tub had to be supported and a slab on grade.
Northern exposure meant pushing the deck out a bit more from the house to catch more precious sunshine.
The first floor of the house only 20" above grade meant the lowest level deck had to be tight to the grade.
Left us with only about 15" up to the next deck. Some cascading wrap around stairs joining both levels and to the grade and it was done.
Hot Tub Spas Just Go Naturally With Any Deck
Tuck away the design tips learned here to your memory bank.
Every backyard is different.
So there are no cookie cutter solutions I am afraid. But with enough exposure to different solutions to different problems you will be able to get your hot tub deck design right.
And also check out this short design principles video on our Youtube Channel. Some good concepts for you also.