Are Vinyl Decks In Your Future?
Well designed and built vinyl decks can greatly enhance the value and enjoyment of any home.
And an added benefit is almost zero maintenance.
That's right.
Forget the sanding and restaining ritual each spring or fall. A quick sweep with a broom or a spray of the hose and maybe a light soap wash is all that is needed.
I know the look of new cedar is beautiful - and it smells so nice too. But that will only last for a few months and then the regular maintenance begins.
The wetter west coast has known about this for decades and it's steadily moving east because of its durabilty and convenience.
Why not look at some real decks?
Examples Of Vinyl Flooring Decks
Vinyl deck flooring was best for the wet weather, less maintenance and a contemporary look.
Each of these clients considered all the options for deck materials, just as you may be doing, but opted for a waterproof vinyl covering instead.
Once you compare the benefits of vinyl over redwood, cedar or ipe it makes more sense - if you don't like doing regular maintenance.
Review these projects and see why and whether your best option is also vinyl.
Southern Exposed Deck With Aluminum Picket Railing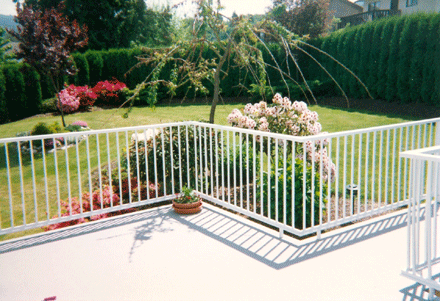 This project is a good example of the kind of clean attractive look that vinyl offers.
This deck has full southern exposure so the surrounding flowerbeds and garden thrives.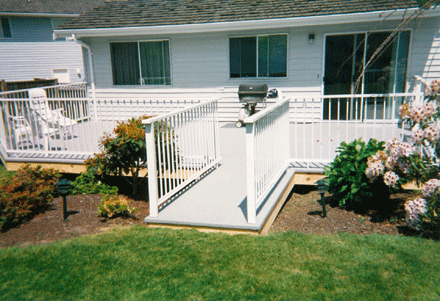 The open "airy" feeling offered by the slim picket railing gives a clear view of the plants that a cedar deck with wood railings probably couldn't do quite as well.
There were some interesting landscape issues that had to be considered in this deck design as well.
Aluminum Glass Railings and a Mountain View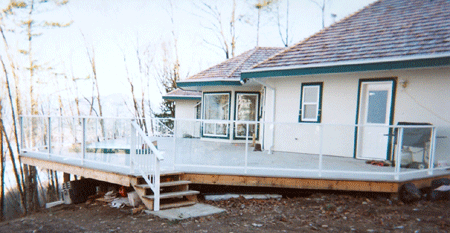 This is easily the largest vinyl deck that we have ever tackled.
But this home was situated on a mountainside so there was no backyard.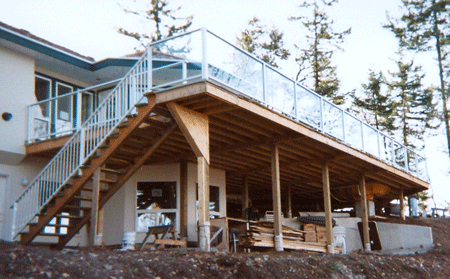 The backyard became the deck which had a hot tub set into it. Waterproof vinyl flooring was really the only logical choice for this deck.
Situated on a northeast facing steep mountain slope on west coast where rain can fall relentlessly during the winter, you want low maintenance.
Here are some pictures of other beautiful vinyl covered decks
There's More To Decks Than Just Wood
Now you can appreciate benefits that rolled vinyl material offers.
Will PVC sheet vinyl be in your deck's future? If so I have more articles for you to read up on.
Some Other Great Reading...
You may wish to check out some of the reputable companies in the business of installing vinyl. Duradek is a veteran in this business. But these other companies are steeped in experience as well.