Which hidden fastener to use on my Lowes decking??
by Randy
(Smithfield, Va.)
I bought 750 sq ft of Select Choice decking from Lowes along with enough stainless steel "Versa-Clips" by Fasten Master to do the job.

After realizing that once installed with these clips, the decking is there to stay. If I ever need to replace a board for any reason, I would have to destruct it to remove it.

The clips are installed with 45 degree angled screws. I am now considering some type of clip that screws strait down, even though most are plastic. At least I think it would allow for future removal of a board if necessary. Thanks, Any opinions?


---
Editor's Comments
This is something I have often wondered as a builder or a homeowner because there are occasions when you may need to remove one board for are repair - or some other reason.
It's not a serious concern. But if you ever did have to remove a board in the middle of the deck you would have some work ahead of you.
Versa-Clip Deck Fastening System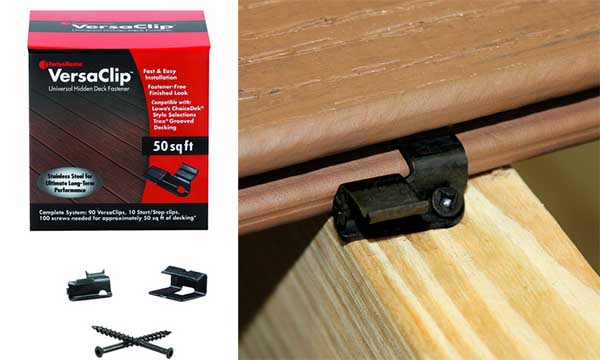 Here is the fastener we are talking about. You have most certainly seen this concept around. And there are many variations of this.
You can see why it would be a lot of work to selectively remove a single board after the fact. Each board interlocks with the one before it.
The only easy board to remove would be the very first one which is top down screwed along its outer edge in traditional fashion and then the clips begin after that.
However, there are some systems where they provide a special side mounted clip with only one leg or projection so that it can be used to connect with the outside edge of the board along the deck's perimeter and be hidden also - just like the infield boards.
So no top down screws required. If you have that style then you would have to go to the other end of the deck and remove boards one at a time working you way back to the beginning.
What To Make Of All Of This?
For the vast majority of homeowners or builders, removing boards after the fact is not a serious concern. It's rather like the challenge of removing a floor board inside your home if you have a problem.
Yes, it can happen and yes it is a hassle. But the benefits of a beautiful hidden fastener system generally far out weigh the risks.
You can learn more by reading this article about other
deck fastening systems.