Built in Deck Benches For Outdoor Spaces
A built in bench will make an ordinary deck extraordinary!
Seating that is done the right way can make your deck much more inviting and useful for entertaining.
You'll find that the additional seating space offered by a built-in will draw people out of the house.
People will naturally disperse around your deck, maximizing it's utility.
And when they are well designed, which I will show you how to do, they truly make any outdoor living space come alive.
This particular deck was less than 30" above grade and so did not have to have railing. It offerred the perfect opportunity to make the entire space more liveable and provide a little bit of security around the edge.
Around a Hot Tub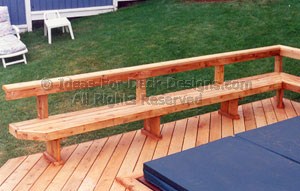 If you are intending to create an area where people will sit for longer periods, such as around a hot tub, consider adding a back to your bench.
A back set between 5 and 10 degrees will offer a greater degree of comfort than no back.
It's hard to see here, but the grade sloped quickly and so by building a back to the bench seating made more sense from a safety point.
This was also a popular gathering area around the hot tub.
Or A Private Retreat Area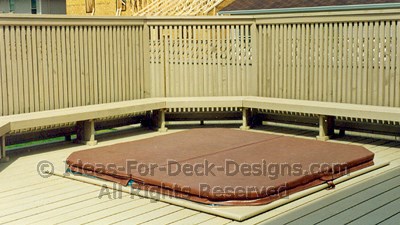 You can get quite creative and use benches in a variety of settings to create a real warm inviting space.
Just look how the thoughtful addition of this privacy rail with seating wrapping around it and this spa.
Each of these examples are of permanent fixtures.
They are fastened to the decking so you have to think carefully about where you want them go.
Get your creative mind going and start thinking how benches can enhance your deck! If you would like to learn how you can make these yourself, click here.