Deck Building - Digging the Holes for the Footings and Piers
Digging holes is labor intensive. It's as simple as that. And in our example, the landscapers had already laid down the fabric and stone so the digging had to be done after the fact.
Check For Any Underground Services
This is the first thing you must do. Be certain that you are not going to cut a hydro line or any other services.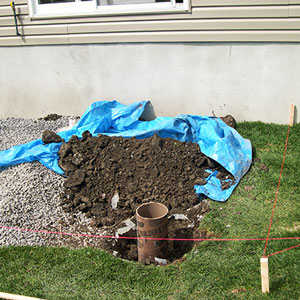 To keep the site clean, we laid out a tarp and dumped the entire back fill on to it during the digging phase.
This made it much easier to clean up when the back fill when back into the hole around the pier. Then we just spread the stone back over small amount of soil around the pier.
Proper Footings
If you want to build your deck right and ensure that the deck will not settle over time and to prevent any heaving from freeze and thaw cycles, you should incorporate a footing below your pier.
This means you must build an area at the bottom of the hole that is wider than the diameter of the pier. This spreads out the weight of the deck structure. It can also prevent heaving if you dig the hole deep enough.
Tips For Better Footings
Dig the bottom of the hole wider than the opening. Think of creating a cavity in the ground similar to an upside down mushroom. The concrete will fill the void and act like a footing and the shape will make it harder to heave.
Create a makeshift from out of 2x4 scraps and fill it with concrete before you pour the piers.
Dig the hole wide enough from top to bottom and use a pre-formed footing. Then you can pour the footing and the pier in one step. This is an excellent method. Learn more about this method.
Setting The Post Anchors Into The Cement
While the cement is still wet, set whatever style of post anchor you are going to use into the cement at the center of the pier and hopefully in line with where you envision the beam to run.

This should be done as accurately as possible.

In our example we used a post anchor that required drilling a pin hole into the hardened concrete and then attaching the bracket to the protruding bolt.
OK, now that your footings and piers are poured you can move to the next phase of the deck building process.

Home  >  Building A Deck  >  Deck Building Digging