Comparing Waterproof Deck Coatings
Waterproof deck coatings are an alternative way to seal and make a waterproof deck.
Photo courtesy of Ducan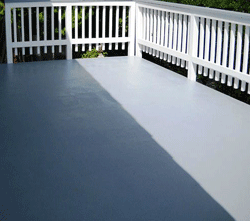 Yes, there are lots of ways to waterproof your deck.
It's not just vinyl, or interlocking aluminum or under deck drainage systems but liquid materials that are designed specifically as a wood deck coating.
These can be rubberized or resin based.
Some are more geared towards professional installers while others lend themselves very well to a DIY environment.
Any way you look at it, a durable waterproof surface coating material for decks with high traffic or in areas with lots of moisture can be a relief and give you peace of mind.
There are two general types of materials I want to share with you.
Rubber Coatings by Ducan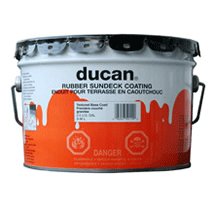 This is a hypalon and neoprene liquid that is applied with rollers.
It is quite simple to apply and goes directly on plywood decking. So it's perfect for a wood deck.
It must be re-applied every three years.
But it can't get any easier than that.
And this is what appeals to many homeowners who live in wetter areas where a lower maintenance waterproof solution is the answer. Learn more..
Or read an indepth interview and how to apply it from an expert on the Ducan deck solutions.
Cementitious Coating by Desert Crete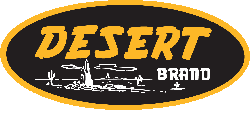 The Desert Crete system by Hill Brothers Chemical company is a very popular coating material.
It's very common in the southwestern states and for use in medium density condominium complexes. This speaks to its reliability and the confidence it engenders in property owners.
But this system is not for DIYer.
It requires a layer of lath, fiberglass matting and a couple of coats of the polybase bonding material. Non-slip surface agents can be applied afterwards. Learn more..
The best person to explain the used of this type of deck coating is an expert on decking applications - Bill Leys. Read all of Bill's articles on everything to do with waterproofing.
Coating a Wood Deck With Fiberglass
Yes, fiberglass can be used very successfully as a reliable waterproof coating for outdoor decks and surfaces.
Many local plastics supply stores will sell all the required material that you need including pigments and surface texture agents.
The bottom line is when fiberglass is applied and installed properly it is one of the most durable low maintenance solutions you can find.
This is a quick summary of the basic steps to install fiberglass.
What Other Alternatives Are There?
The three I just discussed are not the only choices.
However, these materials represent a good cross section of their deck coating style of products available. But if they don't appeal to you there are more options...