warranties are usually limited to materials

As a consultant and contractor, I need to keep up on the ever changing instructions for maintenance and warranty requirements, so I am not surprised by these changes. Heck, manufacturer's need to protect themselves too.

Warranties are now being written that restrict the limit for damages to the cost of the materials.

Simply put, if a manufacturer's product is defective, and as a result of that it fails and causes damage to your property, whatever it is - mold damage, substrate damage, termites or dry-rot or personal property damage -  the most you can expect from the manufacturer will be a check for the cost of the materials sold on the job.

A $100,000.00 deck coating job usually has about 25% of that in material costs, limiting the manufacturer to only $25,000.00 in warranty costs in this instance.

Mold remediation alone in a single unit can cost $15,000.00. Repairs to framing and substrate are costly.
only 25% of the total job cost
That $25,000.00 is a drop in the bucket. Investigations into alleged defects will cost many times that amount.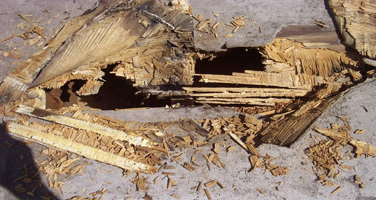 An expensive repair probably started as a nail backing out of the plywood, allowing water to penetrate in.

I was amazed though when I was doing some research on the web and found one manufacturer's maintenance and warranty requirements that read "MANDATORY MAINTENANCE CARE PROCEDURES", which explicitly outlined the owner's responsibilities for this particular product.