The Difference Deck Post Lighting Makes
Why not consider deck post lighting to give your deck some style when the sun goes down?
Those protruding railing posts are just crying out for a little love and attention.
And you can even place post base lights near the foot of the post as well.
That's exactly what one of the Titan Post Anchor customers did and it looked great.
So let's look at the options available to lighten up your deck situation...
Post Cap Lights Come In Different Shapes And Sizes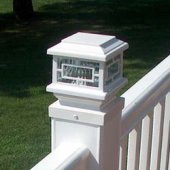 What you might expect to see.
Here is a fairly typical light option for a composite post. It goes with the posts perfectly. The can be low voltage systems or some can be solar powered.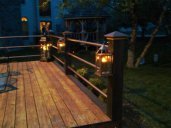 Here is a different take on the concept of providing illumination for deck posts.
These lights are meant to hang from the post.
They are almost whimsical in their apperance.
The point clearly is that there is no end to the way lighting can be used to emote very specific feelings and totally personalize your backyard living space.
Deck Post Lighting at Bottom
Focus on the base of the post.
A great lighting technique that places emphasis on the perimeter of the deck is to install lights near the base of each railing post.
The light is directed downward so it acts as in indirect source of light for the rest of the deck. But the immediate effect is to show off the posts.
A closer view of the style of post light.
The creativity of people is amazing. This deck owner decided to create lighting for his deck built into the posts given that he used a continuous cap rail.
The Titan Post Anchor with its internal anchor system provided a perfect way for the deck owner to wire up into the post for low voltage lighting set about 12 inches above the deck.
The wiring for this post light came up from underneath the deck and through the tube of the Titan Post Anchor for a pretty slick looking deck lighting solution.
Your Imagination Is The Only Limit
When it comes to shining light on your posts, there are great choices.
From the top or bottom perspective, use some deck post lighting to let them stand stall and proud.