Double 45 Degree Corner Posts: How To Do It
Connecting Paired Posts At A 45 Degree Corner
You may have to install double 45 degree corner posts on the outside of the rim joist. This is tricky, no question about it. So if you are a do it yourselfer, you might want to leave this to someone with strong building knowledge and carpentry skills.
The reason is that the actual 45 degree corner here is inherently weaker than a 90 degree corner. As such, it is very important that the custom cut blocking pieces shown below are fitted properly.
Also you must use the structural metal framing connectors and the custom cut threaded rod to get the tension right among the various components to make this kind of deck railing corner construction detail work.
Click Image For Larger View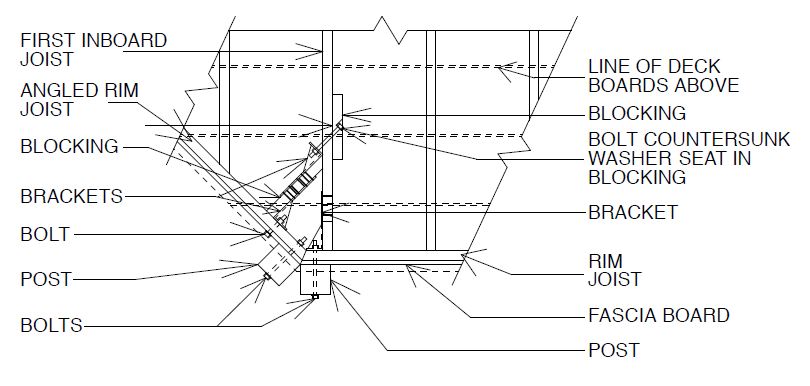 Required Hardware And Cost
There is some tricky blocking and framing going on here so take your time and get it right. Also the hardware connections are critical.
This kind of wood deck railing design does not have a high end finished look as the doubling up of corner posts just is not a clean looking detail. But this will be strong for you.
---
Anytime you secure wood posts directly to joists you should consider your local environment. If you live in a moist area, these posts may rot prematurely given the large surface are contact points and exposure to the weather.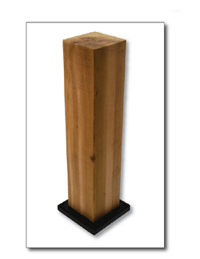 Some people however don't have the ability to build a deck rail this way or desire to install all this hardware, or notch the decking boards around each post.
If you fall into this group, there are simpler and better looking ways to install a strong long lasting deck railing post other than having to double 45 degree corner posts like this.
What you may wish to consider is to build deck railing with posts that are connected to the deck boards by a low profile surface mount anchor.
Take for example this low profile internal wood railing post anchor shown here.
At less than twenty bucks, it can be used in code compliant residential rail applications when installed according to the manufacuturer's engineering guidelines.
A Simple And Cost Effective Option
This is a potential solution for building new wood deck railings, replacing rotted railing posts, or as support posts for pergolas, gazebos, decks, etc.
Then watch this video of a surface mount wood post anchor that has been tested for use with wood deck railings and costs less than $20 with all the hardware you will ever need and it covers all the possible situations described above.
So there you have it.
A detailed explanation of installing double 45 degree corner posts with traditional joist framing and hardware and an alternative solution for great looking railing. You decide which is right for your specific project.
Find out more about this innovative post anchoring solution.