Wood Deck Railings: Attaching Posts to Joists
Wood Posts For Railings Can Be Attached Many Different Ways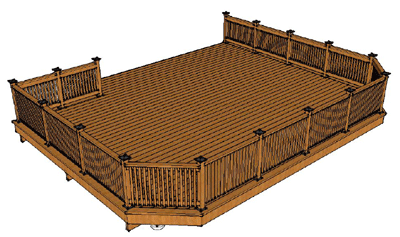 No matter how you design or build a deck, one of the most important parts of any wood railing is the post connection.
I am going to explain all the possible ways of building the most crucial part of all wood rail construction - the post to wood frame joist connection.
The illustrations and explanations below represent traditional building techniques. These are wood framed decks with the railing posts set and secured into the framing.
---
If you are building a railing this way, then commit to understanding these methods and the hardware required.

No building inspector will complain - that is for sure. And the focus here is how to do all the different joist framing and rail post techniques.
Post Framing Techniques - Wood Railings
As you can imagine, this kind of rail post design means all the force is directed to the joist and rim joist connections.

So for each configuration I will show you all the post and joist framing details and the many different fasteners and hardware required as well as the typical costs for each.
---
If there is a method of attaching railing posts that I missed be sure to contact us.
Of course the methods described do require a fair amount of skill and a lot of hardware which translates into more labor and materials.
So if you don't have the skill, time or money there are other ways of installing building code compliant residential guard rails.
A Simple And Cost Effective Option
Or are you thinking of other solutions for your deck, patio, or porch like a surface mounted wood railing connection?
Then watch this video of surface mount wood post anchor that has been tested for use with wood deck railings and costs about $20 with all the hardware you will ever need and it covers all the possible situations described above.
So there you have it.
A thorough explanation of building traditional wood deck railings and alternative post anchoring solutions for great looking deck railing. You decide which is right for your specific project.
Find out more about this innovative post anchoring solution.