End Matching Between Joists

Dasso decking boards are end matched so that they can be joined together over a joist bay - between the joists.  And it looks beautiful, is strong and makes installation faster and easier.


Joists can be spaced at 18" o.c., 16" o.c. or 12" o.c.  If boards are installed 45 degrees to the joists spacing must be 12" o.c.
Smooth or Reeded - Single Groove or Double Groove

Turn boards over to either a smooth surface or a reeded surface.  The choice is yours.  Wetter climates would do better with the smooth face up so as not to cup or retain water.  Drier climates may prefer a textured appearance and feel.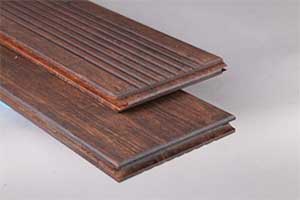 Perimeter boards are single grooved as they start any give course of boards.  In field boards are double grooved.
Spacing And Ground Clearance

Each board should have 3/16" gaps from the next and at least 6" of clearance if above ground.  This allows radiant heat from the ground and moisture to dissipate a bit rather than being trapped under the deck.

Fasteners
You can use hidden fastening side mount deck clips with grooved boards if want a totally clean look.  The Tiger Claw-TC 120 is a good example but there are others too.  It is a black plated 304 stainless steel and each pack covers 50 sqft.
Top down screwing is always the most secure way to attach deck boards to joists.  You can do that in two aesthetically pleasing ways.
Starborn Headcote 305 stainless screws are available in Brown (#34) which is a great match for Ipe and Dasso bamboo.
You can also use their Pro Plug System.  It includes a countersinking bit, depth set, stainless screws, Ipe plugs and glue.  It looks fantastic with Dasso bamboo boards.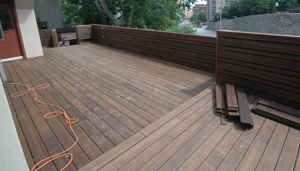 Weathering, Finishing & Cleaning
The boards are manufactured to precise tolerances and have a factory applied coat of WACO oil which gives it it's color.

However, the oil can wear off during installation and so you must apply a coat of penetrating oil like Penofen or Messmers and Dasso recommends a product called XTR Guard by Carver.

Weathering

Without finish, the wood will weather to a silvery patina similar to other wood products.  The warranty requires that XTR Guard be applied immediately after installation and that any cross cut boards have their ends sealed with a clear water resistan wax such as Anchorseal by UC.

Finishing

XTR Guard is a water based acrylic transparent color tinted finish that will protect the color of the decking and provide protection from water, sun and mold and fungi.  You should put two coats on at the start.  One gallon covers 500-900 sqft.  The first coat absorbs the most obviously.

Cleaning

Then each spring you should wash the deck with XTR Clean.  XTR Guard is only required every 2-3 years are when you see it starting to wear.  If you have neglected the deck and it has faded and become grey you can use XTR Restore which removes the patina and brings back the bamboo's origanal color.  Then apply the sealer finish.