Installing 6x6 fence post on concrete
Is there an anchor that can be used to install a 6x6 wooden post to concrete?

This is a new installation and the concrete will be poured in forms 24" to 36" deep. The wooden post is part of a 7' high privacy fence. All the specs I read say concrete anchors must be for top supported applications such as decks NOT for fences.


---
Editor's Comments:
The post brackets you are likely thinking of are the generic U shaped saddle style anchors. They have a leg which is to be set into the wet cement. Once it sets you fit your post into the U bracket and drive screws through the flanges and secure the post.
These are fine for compression loading and in fact I have written a pretty detailed article on this kind of connector showing where it excels. Might be worth a
quick read.
Not For Free Standing Posts
However, these connectors are limited to compression and tension applications. They are not intended to provide any significant lateral force resistance at the top end of the post.
They are not designed for moment loading. You need something that has some semblance of design intent for a post where it is built into a railing or a fence and the top end of the post is not secured to a superstructure above it.
This is the terminology used by the manufacturers of these simpler compression and tension devices because you really should not try to use them in the application you are planning.
Post Anchors For Your Application
There are also post anchors that are better suited for your fence application. Some are generic style and have large wrap around bases and simple flanges. The post fits in or is cradled by the bracket and you screw the flanges down to the concrete.
You may find these are acceptable and they are readily found in most box stores across the country. They are not very attractive however.
A Different Solution
You may wish to consider using the 6x6 Titan Post Anchor which has been engineered for residential guard rail applications - not specifically for taller fences. However, the 6x6 has been used many times for fencing applications on concrete with beautiful results and is strong enough to do the job.
An Example
Here is a 6' fence using 6x6 posts set at 6' spacing. It turned out great and was plenty strong. But we kept the spacing to 6' apart rather than 8' and the posts where not 7' as you are planning.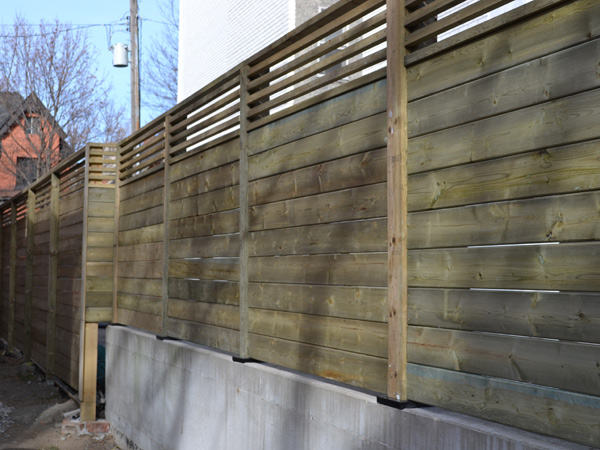 If you would like to see how this job was done you should watch this video below. Keep in mind the reference to the Titan Max 6x6 anchor is no longer relevant. The regular Titan 6x6 anchor was shown through engineering tests to be equally strong or even stronger.
If you think this is a solution for you, you can find it
in the store here.