How to Attach Double Posts Set Apart From Inside Corner
This is another less common framing technique where two posts are connected outside the rim joist and 18" or so from the inside 90 degree corner. It makes for an unusual wood railing look for sure but if built properly will perform fine.
But if you find yourself facing this scenario, here is how you would frame for it and what hardware you would need.
Click Image For Larger View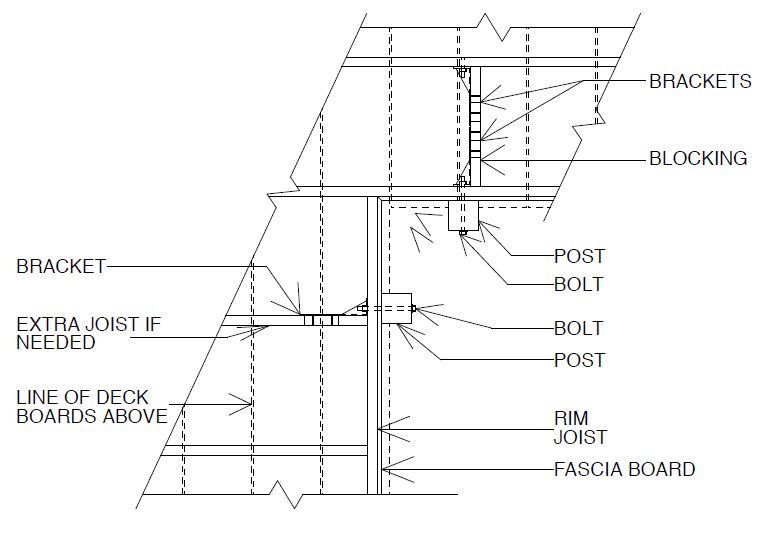 Required Hardware And Cost

If you use set back posts as shown, you will have to keep in mind the entire railing will sit beyond the edge of the deck creating a gap. The gap can't be more than 4". Also remember to notch the deck boards around each post if they overhang the edge of the deck.
Blocking between the parallel joists is essential in this railing style. In addition, the metal structural connectors shown here are quite helpful in making the entire deck framing structure stiffer.
There are simpler, less costly and better looking ways to install a strong long lasting deck railing post other than having to use set back corner rail posts like this.
---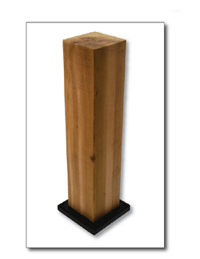 Consider your climate and whether you are concerned about your posts remaining vulnerable to moisture over the years because of direct wood on wood contact with the deck framing.
If you have these concerns, there are railing solutions for decks available to get you a high quality and beautiful looking railing.
What you may wish to consider is to build deck railing with posts that are connected to the deck boards by a low profile surface mount anchor.
Take for example this low profile internal wood railing post anchor shown here.
At less than twenty bucks, it can be used in code compliant residential rail applications when installed according to the manufacuturer's engineering guidelines.
A Simple And Cost Effective Option
This is a simpler and faster way to build new wood deck railings, replacing rotted railing posts, or as support posts for pergolas, gazebos, decks, etc.
Then watch this video of a surface mount wood post anchor that has been tested for use with wood deck railings and costs less than $20 with all the hardware you will ever need and it covers all the possible situations described above.
So there you have it.
A detailed summary of how to install two set back corner rail posts against joists and and an alternative solution for great looking railing. You decide which is right for your specific project.
Find out more about this affordable post anchoring solution.