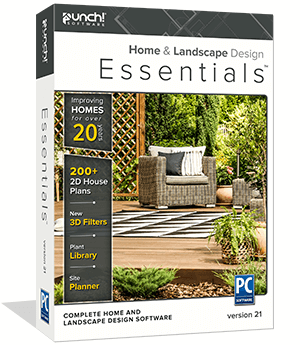 The latest Punch! Home & Landscape Design Essentials v21 is more than just a landscaping product.
It brings your style and outdoor living ideas to life!
Looking to build an outdoor kitchens, water features, or update your outdoor living space with the latest designs?
This product gives you the power to choose plants specific to your region, down to your zip code!

With over 10,000 plants in 10 zones, pavers, and outdoor materials your designs can come to life with just a few clicks of the mouse.
Need Help?

Integrated Videos guide you step by step and can be easily accessed from your planning design project. Unsurpassed realism helps bring your ideas to life.

Designing your outdoor living space is easy and fun! No experience needed! Learn more...