Rail Post At Inside Corner
How To Connect A Rail Post At Inside Corner
What do you do when you want to install a deck rail corner post on an inside corner?
Think of a 90 degree corner that creates a concave shape of a deck instead of convex. It is a bit different that what most builders confront.
So here is a construction framing method you should familiarize yourself with so you are able to deal with this and many different situations you will confront in terms of framing.
This is a proven carpentry method showing how to connect a corner post on the inside joists of n interiro 90 degree corner. It uses a construction technique where the post is blocked in a special way to give it support inside the corner framing.
Here is a detailed drawing and the hardware you will need.
Click Image For Larger View

Required Hardware And Cost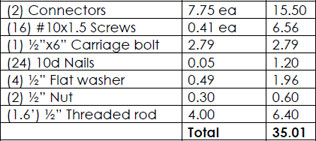 Inside corners appear often in many wood decks and this is a tried, tested and true way to do it. Of course you will notice the extra blocking that is required and the hardware is extensive.
You will notice that some intricate deck board notching has to be done to go around that post and still overhand the edge of the deck fascia.
In addition the railing will be set in a bit farther away from the deck's edge.
---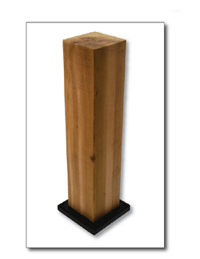 Some people will see type of corner post railing construction beyond their ability or desire to install all this hardware, or notch the decking boards around each post.
The other issue for some is the vulnerability of the wood posts to moisture damage over the years because of direct wood on wood contact.
If this is you, there are other deck railing methods that are less expensive and will give you a high quality and beautiful looking railing.
Take for example this low profile internal wood railing post anchor shown here.
It's less than twenty bucks and can be used in code compliant residential deck rail construction when installed according to the manufacuturer's engineering guidelines.
A Simple And Cost Effective Option
This is a potential solution for new wood deck railings, replacing rotted railing posts, or as support posts for pergolas, gazebos, decks, etc.
Then watch this video of a surface mount wood post anchor that has been tested for use with wood deck railings and costs less than $20 with all the hardware you will ever need and it covers all the possible situations described above.
So there you have it.
A thorough explanation of building traditional wood railing for decks and alternative solutions for great looking deck railing. You decide which is right for your specific project.
Find out more about this innovative post anchoring solution.