Attaching A Railing Post Along A Joist

Securing A Single Railing Post Alongside A Joist Without Blocking.
One of the most common situations is securing a post along the front of the deck along the perimeter joist where the main joists are extending back perpendicular to the house.
In this case setting its a bit simpler than when the post is attached to the perimeter joists on the side of the deck because in that situation the joists are parallel and weaker so blocking is required.
This is the simplest framing option but because there is no blocking along the joist and butting up against the post, you should not only bolt the post to the joist but consider adding special post to joist metal structural connectors that replace what the blocking piece does.
This view or a railing post along a joist is top down so it does not show a second railing joist connector which is required if you want the post to resist equal force from an inward or outward direction.
Click Image For Larger View

Required Hardware And Cost

Important: Remember that to have equal resistance to an outward and inward force along the railing you will need at least two connectors OR a blocking piece scabbed along the joist and butting up against the bottom part of the post.
This makes for a strong railing post to rim joist connection.
But it means the railing post are outside the edge of the deck and means the railing sections would also be outside the edge of the deck in most cases.
Building deck railing this way if functionally fine but for many people it does not have the finished appearance they want. If you want the deck boards to overhang the deck for water dripping, you will have to notch each deck board around each post.
---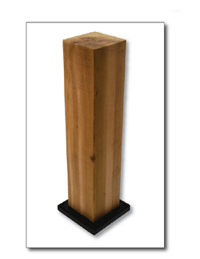 The other concern for many people is the vulnerability of the wood posts to moisture damage over the years because of direct wood on wood contact.
But there are simpler ways to install a strong long lasting deck railing post without all the hardware, reduced concern for rotting and with a clean look.
What you may wish to consider is to build deck railing with posts that are connected to the deck boards by a low profile surface mount anchor.
Take for example this low profile internal wood railing post anchor shown here.
At less than twenty bucks, it can be used in code compliant residential rail applications when installed according to the manufacuturer's engineering guidelines.
A Simple And Cost Effective Option
This is a potential solution for building new wood deck railings, replacing rotted railing posts, or as support posts for pergolas, gazebos, decks, etc.
Then watch this video of a surface mount wood post anchor that has been tested for use with wood deck railings and costs less than $20 with all the hardware you will ever need and it covers all the possible situations described above.
So there you have it.
A thorough explanation of building traditional wood railing for decks and alternative solutions for great looking deck railing. You decide which is right for your specific project.
Find out more about this innovative post anchoring solution.