Two Corner Rail Posts: How To Do It
Securing Double Corner Rail Posts
Sometimes you may want use paired or double corner posts attached to the outside of the rim joist at a 90 degree corner. It makes for a bit unusual wood deck railing afterwards but here is the layout.
But at least the posts are close to each other so that there is no need for balusters in between them. You can simple run the top rail cap over the posts and join them.
The drawing does show a unique aspect to this railing construction style and that is a square block positioned inside the corner rim joist framing. This is needed in order for each adjacent post to be bolted to the joists in an an offset pattern.
Click Image For Larger View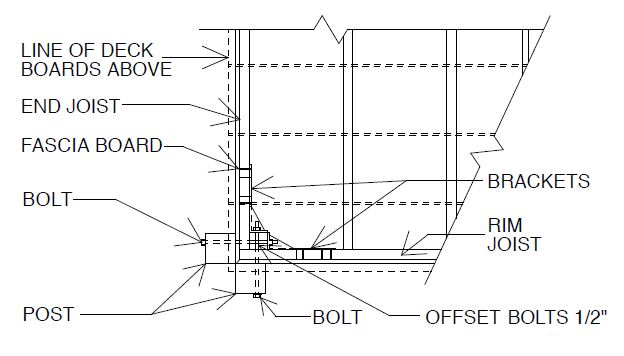 Required Hardware And Cost
That corner blocking pieces braces and secures the corner joist framing from the forces that the two corner rail posts will take.
You need slightly longer lag bolts to go the extra distance. But this will give you strong two corner rail posts for this style.
Building deck railing in this manner gets the job done. But it does not give you are really finished appearance. If the deck boards overhang the rim joist, you will have to notch each deck board at each post.
---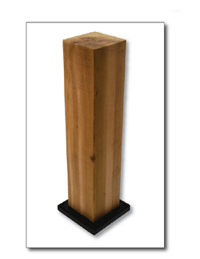 Some people are concerned about their posts remaining vulnerable to moisture over the years because of direct wood on wood contact.
If you have these concerns, there are railing solutions for decks available to get you a high quality and beautiful looking railing.
What you may wish to consider is to build with posts that are connected to the deck boards by a low profile surface mount anchor.
Take for example this low profile internal wood railing post anchor shown here.
At less than twenty bucks, it can be used in code compliant residential rail applications when installed according to the manufacuturer's engineering guidelines.
A Simple And Cost Effective Option
This is an easy way to build new wood deck railings, replacing rotted railing posts, or as support posts for pergolas, gazebos, decks, etc.
Then watch this video of a surface mount wood post anchor that has been tested for use with wood deck railings and costs less than $20 with all the hardware you will ever need and it covers all the possible situations described above.
So there you have it.
A thorough explanation of building traditional wood railing for decks and alternative solutions for great looking deck railing. You decide which is right for your specific project.
Find out more about this innovative post anchoring solution.