What Is Vinyl Deck Flooring?
Clean, Waterproof And Low Maintenance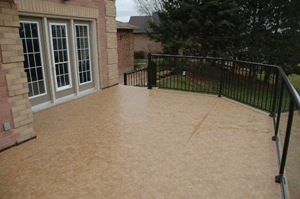 What's not to like about a vinyl deck flooring material that can easily last 15 years or more and continues to look great after a simple pressure wash with some soapy water from time to time? 
If this sounds good to you and you are interested in learning more about PVC decking and other vinyl material alternatives, this article explains exactly what vinyl deck flooring membrane is.

Let's Start Learning A Little History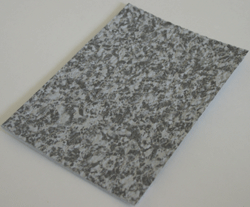 The Origins of PVC Sheet Flooring Material Might Surprise You 

The first PVC sheet flooring material was made by Chrysler. It actually became known as "Chrysler Vinyl" and it was originally used to keep decks of boats dry and safe with a grippy surface.
I don't know if they are still the only manufacturer today but if they are I'm confident they are busy.  The solution worked so well for keeping the decks of boats dry and safe it didn't take long before it was adapted for use in the decking industry.  It is now used as a great low maintenance vinyl flooring solution to replace and maintain wet, rotting and worn out wood decks.
Various Thickness for Different Applications
The material is made in 20 mil, 40mil and 60 mil. Don't bother with the 20 mil as it is so thin it's not worth using.
Only the 40 and 60 mil is worth using. The 60 mil is approved for use as a waterproofing material over living spaces.
Sloped For Drainage

Any deck, wood, vinyl, composite should always have a slope to help shed water away from the house. But with a waterproof vinyl deck flooring material its even more important.
 A 2% minimum slope is required, but even up to a 3% or 4% slope it will hardly be noticed.
And, any railing system can be built, the posts are installed just slightly below 90 degrees to appear vertical.
Proper Deck Surface Preparation Is Essential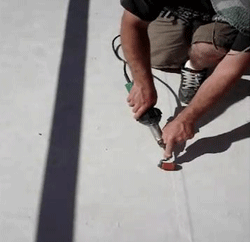 Glue Vinyl Membrane to Decking Surface - Plywood Must be Smooth
At least 5/8 T&G is recommended. Glued and screwed to the joists.
All joints should be ground smooth and then all screw holes and seams troweled smooth with liquid cement flooring compound, so the final surface appears perfectly smooth.
Heat Welded
The most critical part of what makes this material shed water is the heat welding of the overlapped seams.
There should be three different welds along the seam to ensure it is truly watertight.
They used to try to do invisible seams without overlapping but they continually failed so don't every try it.
Appearance And Keeping It Looking Good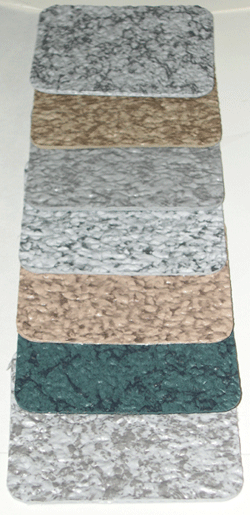 Colors

Their are dozens of colors to choose from. Darker colors are hotter in the sun. But they conceal dirt or debris better.
Fading
Darker colors will fade more noticeably than lighter colors. Good vinyl deck flooring has lots of UV protectors in it which is quite effective in minimizing any fading.
Cleaning
There really isn't a lot of annual maintenance required. Mostly you just have to spray the deck down. But there is some dirt that must be removed asap. 
Hamburger grease
Try to get to this sooner rather than later. Wipe off as much as you can or scrape it. You can harden it a bit with an ice cube if needed first. Then apply some Fantastic spray cleaner and rinse it off.
Sap from trees
This is the nastiest stuff to remove and is harder if the texture is really deep. Chill and harden it with some ice. Then use a fairly stiff brush with soapy water. Try some Fantastic cleaner and rinse off.
Oil
Fantastic spray cleaner is your best bet here followed by a good rinse. For gooey stuff, use an ice cube to chill and harden it then you can more easily scrape it or wipe it off.
Are You Ready To Do it?
I highly recommend that you talk to a professional installation company that guarantees their vinyl deck flooring material and also the workmanship. Duradek is a veteran in this business.
Now you should have a base level of knowledge about the facts surrounging pvc vinyl deck flooring.
Some Other Great Reading: