What You Need To Know About Vinyl Railings
What exactly are vinyl railings anyway?
For those of you new to construction or are buildng your first deck, vinyl deck railng is something you should at least be aware of.
The first thought is often "How can plastic be strong enough for my deck rails".
Well, the components like post covers, top and bottom rails, balusters and accessory fitting are actually made of PVC.
That's poly vinyl chloride which is a very outdoor friendly material. It will retain its color well and give you many years of low maintenance performance.

How it Works
PVC railings are just a skin which has galvanized steel or aluminum inserts.
Steel gives it the necessary strength to span much greater lengths than wood.
You can actually find vinyl systems that have been tested to span up to 8' and even 10'. However, that only means that the railing section itself - between the posts - has been tested.
The ultimate strength of the finished railing depends on the maximum load that each post can carry.

Posts Are Dressed Up
The posts are usually standard 4x4s that are attached to the deck joists and framing.
They are connected to the deck framing using traditional post to joist carpentry methods.
Read this essential article on properly building rail posts into deck framing.
Or if you are not confident with the sometimes tricky carpentry to get it right, or if you can access the joists try an innovative surface mounted post anchor.
Most wood posts are designed to safely perform at 6' space intervals.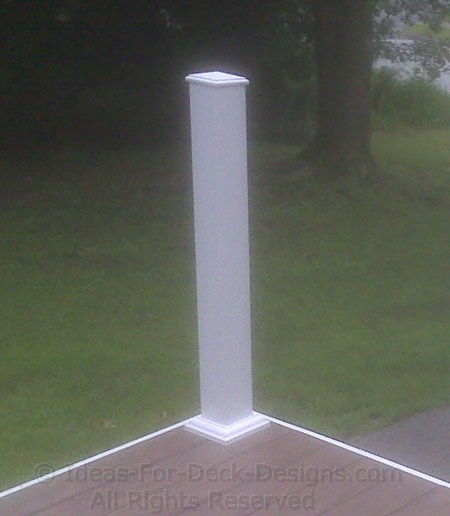 Although it can be greater depending on how well each post is built into the joist framing below the deck.
The end effect of all of this is a clean looking white rail structure that is about as care free or maintenance free as you can get.
The one complaint some people find, and this depends a lot on the system you choose, is the rail can squeak a bit.
Pros And Cons of Vinyl Deck Railing
There are some great advantages and what some might consider disadvantages.
Certainly not having to paint and maintain them annually is great. They also are almost always fastener free so the look is quite clean.
On the down side, depending on the manufacturer's design some people report that the components can squeak when you push on them.
Also some people don't like the general smooth and sometimes shiny texture or appearance.
But that is a very personal thing.
Manufacturers And Installers
Here are some of the vinyl railing manufacturers that put out great products:
What Should You Do?
I would recommend vinyl pvc railings as a good option for home owners who are on a tighter budget but still want a longer term option over wood.

PVC has proven to be a great outdoor building product for both railings and decking boards. Here are some other good articles for you to learn about them.
Home  >  Deck Railings  >  Vinyl Railings