Why Not Stone Decking Material?
Stone decking is among the most elegant and durable surface for any deck.

Decks are a great place to entertain guests and they're ideal as a gathering spot for your family to enjoy nature and a little bit of fresh air at the end of a long stressful day.

If you do not already have a deck, they can be very DIY friendly to build, and with a little hard work you can be arranging the Adirondack chairs in just a few weekends.

However, there are a few decisions you have to make before shaking the dust off your tool belt, and one of the most important is, what decking material should you choose?
Stone Decking Material Options for Elevated Decks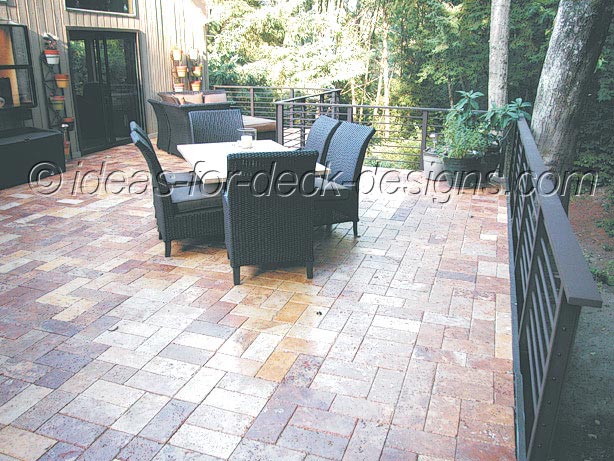 Treated wood has been the primary deck building material used for elevated decks for many years.
The wood is rot resistant and can last a long time with proper maintenance.
Unfortunately that proper maintenance consists of sealing the wood on a regular basis with outdoor stains and wood preservatives that can be very costly.
Even after all that work and expense, treated wood on elevated decks can still splinter, crack, and twist into unsightly shapes.
Composite and vinyl deck materials are another option and can provide a low maintenance deck surface that is eco-friendly and lasts longer then wood. Unfortunately, these products have a few drawbacks as well.
Many composite products can fade after exposure to sunlight and inclement weather and that once vibrant deck can become dull and drab in just a few years. Composites and vinyl are also susceptible to scuffing and once the marks are there the only options may be to live with the blemishes or replace the boards.
If you were making a list of the most durable materials in nature, stone would have to occupy a spot near the top. And that's why it can be an ideal choice as a decking material for elevated decks.
Stone decking, like pavers and the like, can be maintained with a broom, does not splinter or burn, and any fading that should occur only makes it more attractive.
You might have a difficult time finding a more durable material than stone as about the only way to damage the surface would be to drop a sledgehammer, and even that may just add a bit more character.
If you are wondering how to use a stone decking material on your deck, installing an underlayment material such as Silca Grate over your joists can provide all the support stone needs and can even be used for materials such as brick or masonry pavers if you prefer.
Silca Grate is available in two-feet squares, and installation of this particular underlayment decking material, on an average sized deck, might take less than an afternoon.
There are a lot of great decking material options for your new elevated deck, but when it comes right down to it - what is more durable and attractive than natural stone?
To learn more, see how a real deck is built with stone.