Builders

- Show Off Your Work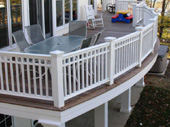 It's What You Are What You're Good At
Signup and get your best work in front of thousands of people at DecksGo.com looking to see creative deck designs and ideas.
Interested homeowners can contact you directly and that's your chance to pay it forward.
Help someone out as they plan their project.  Or maybe they become your next client.  It's up to you.