infinity deck by fortress deck

From one of the harshest climates in the world comes one of the toughest composite bamboo decking in the world.  Infinity decking is a creation of Eva-Last, a South Africkan composite deck board manufacturer. 
The story goes that some of the premium composite decking at the time was shipped over to South Africa and it just didn't last.  It could not handle the extreme sunlight or the heat.  And so Eva-Last was born and their first challenge was to develop a superior synthetic composite decking board.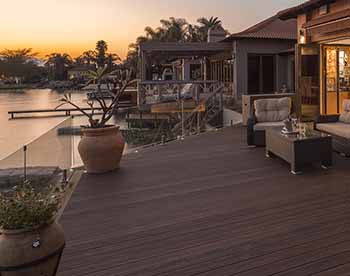 With years of testing and observation it was clear that Eva-Last had come up with a great solution and so Infinity Deck is now available in North America and distributed by Fortress Deck.
The idea for using bamboo in the flour, which is the mix of HDPE and bamboo, was that bamboo is less water absorbent than the native recycled wood used in North America.  Bamboo is also much more dense and has a texture that makes for a very fine ingredient in the board extrusion process. 
The boards are made of 55% bamboo and 35% recycled plastics, much of which comes from water bottles.  And since bamboo is a highly renewable resource it makes for a good combination of materials that seems to be pretty gentle on the environment.

Capping The Deck Board around all four sides
Inifinity Deck uses a patented capping technology which provides exceptional protection to the inner part of the board.  The cap provides the best scratch, stain and fade resistance the industry can offer.  Uses recycled water bottles and bamboo.  Uses no toxic preservative common with natural wood flour composites. The boards are grooved or ungrooved and they work well with their proprietary Hulk fastener systems.
One thing you should consider is that because the boards are so dense and come in 20' lengths they are prone to slight linear expansion with extreme heat.  A 20' board can increase in length by 1/4" to 3/4".  That is about 0.025" per foot and is quite insignificant.  However, it does mean you should allow for this potential expansion if you are butting boards up against each other.
They also conveniently make stair tread boards that are 12-7/8" wide which means one board can be used instead of two and there is plenty of room for nosing.  Their fascia boards are made in 7-1/4" and 11-3/4" widths and 12' long.

The boards come with a twenty-five year warranty with no apparent distinction between residential or commercial applications.  Be sure to check with Fortress about the details of their warranty but if that is the case it is one of the strongest warranties in the business.