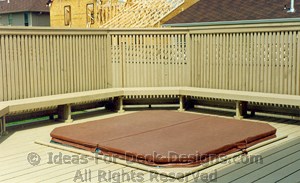 Here are three examples of different decks that are sure to stir your imagination.
Possiblities exist and while your home is certainly unique, you can draw some ideas.
So if you are thinking about a spa and building a deck then consider bringing the two together.
Spas are one of the best investments for you home that you can make. You get the benefits of a spa without the size, maintenance and expense of a full size pool.
Maximize the use and enjoyment of your deck.
Even if you are a novice, it's pretty easy to do.
I'll show you how I've done it for many clients and take you through the entire design and build process from actual projects.
Projects
Check out the building projects below and you will see how deck design principles are applied to create the most attractive and useful outdoor living space possible.
Then apply these design ideas when you build your own hot tub deck.
What Can You Do To Make Your Backyard Special?
Hopefully after checking out each of these unique hot tub decks your mind is turning.
If you have some unique design challenges you are facing contact us and we will try to help you out.
Want to learn more? Check out this article: