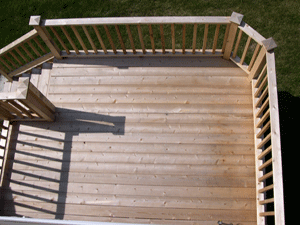 Think of it as a crash course in building a basic deck.
Perfect for the first time carpenter.
If you follow each stage of building this deck, most, if not all, of your questions should be answered.
Most of the pictures embedded within the course are expandable. Just click on them to get a closer view.
This content is intended to build your confidence before you even lift a hammer.
The simplicity of this deck design will not impress a seasoned carpenter but the intended audience for this blog post is the less experienced deck builder and for builders who might have a few technical or design questions.  
Building a deck of this nature is great for any beginner because it is relatively simple to follow and it covers all the key areas. 
Sit Back, Get Comfortable
Grab yourself a coffee or beverage of choice and go through the entire course of pick and choose whatever aspect of the building process you are interested in.
You can print out any of the pages for reference if need be.  In no time, you will be in fine shape to start designing and building your own deck.
Each page is set out in the same logical order you would follow if you were building a deck from scratch. One topic will set up and prepare you for the next topic.
A Simple Deck Building Project:

OK, if you're ready, let's start from the very beginning. 
There you have it, a very thorough summary of the critical steps required to build a simple deck successfully.
If you are thirsting to learn more, please check out the many other articles published throughout this website. 
Good Building.