Beginner Deck Building Project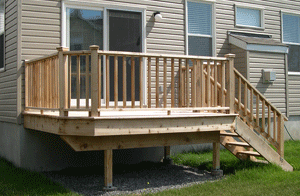 Any beginner deck building project can seem a bit challenging.
So if you are a beginner builder, this is a great little deck to study and learn some basic construction techniqujes.
This is as simple as it gets.
Except you are going to learn about desig, site layout, footings, beams, ledger attachment, framing, stairs and railing.
It's a crash course in building a really basic deck.
Perfect for the first time carpenter.
Follow along each stage of building this deck and most, if not all of your questions should be answered.
Most of the pictures are expandable. If you just click on them, you can get a better view.
This will really build your confidence before you even lift a hammer.
For sure, it won't impress a seasoned carpenter but that isn't the purpose of this project.
Learning the steps of building a deck of this nature is a great learning example because it is relatively simple for any beginner to follow yet it covers all the key areas of building decks.
As a beginner deck building project, this one is even good for some of you who are fairly confident about your building skills but have a few technical questions on certain aspects of building backyard decks and the design process.
Critical Things You Will Learn
Connecting and flashing a ledger board



And cover all topics such as assessing your building location and design and shape of the deck.
Framing with internal cantilevered joists



Then I'll discuss the deck site preparation and layout.

Once we know the shape and design of the deck, we'll figure out the footings and pier locations, beam size and lengths.
Some simple stair building tips



One of the most dreaded tasks any first time DIY'er will every try. But it's actually painless!



So Sit Back, Get Comfortable
Grab yourself a coffee or beverage of choice and go through what ever aspect of the project you are interested in.
Print out the page for reference if need be. And in no time, you will be in fine shape to start designing and building your own deck.
Each page is set out in the logical order that you would follow if you were building a deck from scratch. One topic will set up and prepare you for the next topic.
A Simple Deck Building Project:
OK, let's start building from the very beginning, the idea stage and your proposed location. Go to Assessing Your Site.
There you have it. A very thorough summary of all the cricital steps on completing this beginner deck building project successfully. And if you are still thirsting to learn more, check out the other articles above.